AGRA TO DELHI TAXI
When Book agra to delhi taxi, there are several key factors to consider. You'll want professional drivers who are knowledgeable about the routes, a dependable and reasonably priced cab service, and straightforward payment options without any hidden fees.
Fortunately, all of these essential elements can be found at Taxi king, ensuring that your journey from Agra to Delhi is a stress-free experience. Along the way, you can make a quick stop to admire the magnificent wonder of the world, the Taj Mahal.
Additionally, you can pause at attractions like Qutub Minar or ISKON Temple in Ghaziabad to marvel at their stunning architectural beauty. To indulge in some shopping, catch a musical performance, and savor diverse cuisine options, don't miss a visit to the Kingdom of Dreams.
We provide tailored packages to suit our customers' specific requirements. Whether you're planning a one-way journey or a round trip, we offer a range of options to accommodate all types of travelers. Our 24/7 customer support +91-7060177880 ensures you can easily book your ride with just a few clicks. Don't hesitate any longer – reserve your Agra to Delhi taxi with us today.
Affordable taxi prices from Agra to Delhi
We provide a range of options for you to select from, catering to your specific needs. Depending on the number of passengers and the amount of luggage you have, you can choose from various packages and vehicle types. Our Agra to Delhi taxi service offers cost-effective packages, ensuring convenience for all travelers. Explore the different cab choices available and their respective prices for the Agra to Delhi cab service below
| Type of Cab | Model | Capacity | One Way Taxi Price |
| --- | --- | --- | --- |
| AC Hatchback | Tata Indica | 4 | Starts from ₹1,999 |
| AC Sedan | Toyota Etios, Swift Dzire | 4 | Starts from ₹1,999 |
| AC SUV Large | Ertiga, Toyota Innova, Crysta | 7 | Starts from ₹2,699 |
Agra to Delhi Taxi Services
Taxi King offers a reliable taxi service from Agra to Delhi, perfect for all your travel needs. Whether you're planning a one-way journey or a roundtrip adventure, you can count on us for safe and comfortable travel.
If you're seeking an Agra to Delhi one-way taxi, you won't have to break the bank. With Taxi King, you only pay a little over half the cost of a regular roundtrip fare. This is an excellent choice when traveling with children or elderly family members, allowing you to set your own pace and reach your destination comfortably.
Roundtrip Taxi Service
Planning a leisurely vacation? Our roundtrip taxi option is ideal for you. You can savor the local cuisine and explore the sights at your own pace. Our experienced driver will be there to assist you at every step of your itinerary, ensuring a hassle-free and enjoyable journey.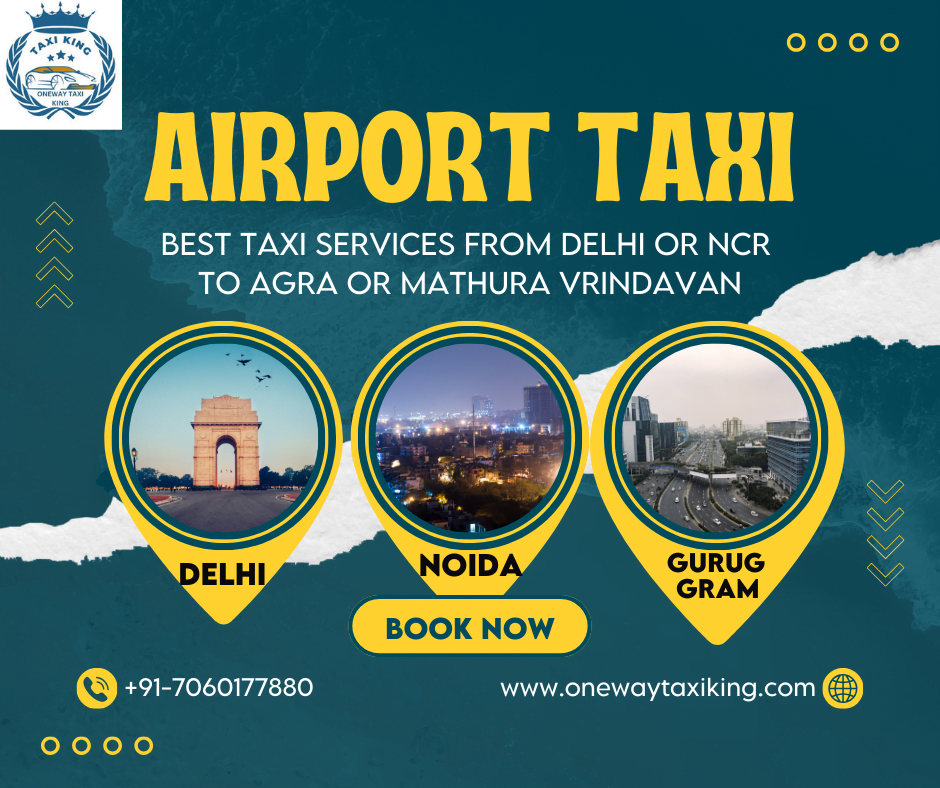 ONEWAY TAXI KING SERVICES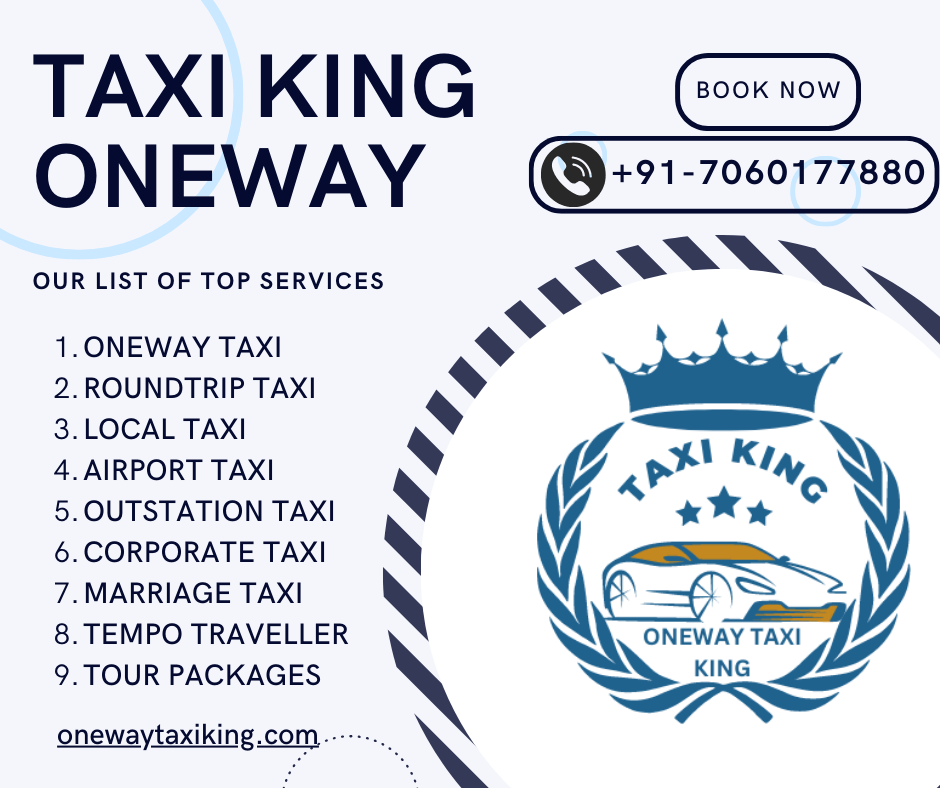 Why Choose an Agra to Delhi Taxi?
Traveling between Agra and Delhi offers you a chance to explore the heart of India, filled with rich history and culture. While there are various transportation options available, here's why a taxi is your best bet:
Convenience: Taxis are available round the clock, providing flexibility in your travel schedule.
Comfort: Experience a comfortable ride with spacious seating and climate control.
Safety: Professional drivers ensure your safety, and taxis are equipped with modern safety features.
Scenic Views: Enjoy picturesque landscapes along the route, making your journey memorable.
Door-to-Door Service: Taxis take you directly to your destination, avoiding the hassle of transfers.
How to Book an Agra to Delhi Taxi?
Booking a taxi from Agra to Delhi is simple and can be done in various ways:
Online Booking:  Taxi king services offer online booking for your convenience. Visit our websites, enter your details, and confirm your ride. and just do a whats app to us  for booking
Phone Reservations: You can call +91-7060177880 the taxi service directly to make a reservation. This is ideal for those who prefer a more personal touch.
At the Airport: If you're arriving at Agra Airport, you can find taxi counters inside the terminal. This is a quick and efficient way to book a taxi.
Agra to Delhi Taxi Services: What to Expect
Once you've booked your taxi, you can expect a hassle-free and comfortable journey. Here's what you can expect from Agra to Delhi taxi services:
Professional Drivers: Experienced and courteous drivers who know the best routes and ensure your safety.
Clean Vehicles: Taxis are well-maintained and clean to provide a pleasant traveling experience.
Affordable Pricing: Competitive pricing with no hidden charges.
Choice of Vehicles: Select from a range of vehicles that suit your needs, from compact cars to spacious SUVs.
FAQS (Frequently Asked Questions)
Q1: How long does it take to travel from Agra to Delhi by taxi?
A1: The travel time depends on the route and traffic conditions, but it typically takes around 3 to 4 hours.
Q2: Are there any sightseeing opportunities along the way?
A2: Yes, you can make stops at places like Mathura and Vrindavan to explore temples and historical sites.
Q3: Can I book a one-way taxi from Agra to Delhi?
A3: Absolutely,  taxi king services offer both one-way and round-trip options for your convenience. you can book a taxi in just one call +91-7060177880
Q4: Are there any COVID-19 safety measures in place?
A4: Yes, taxi services have implemented safety protocols, including regular vehicle sanitization and mask-wearing by drivers.
What Customer Says
Shailendra Singh
2023-09-21
Very nice 👍 services
Taxi King is very affordable taxi services providers we recommend
Yogesh Kushwah
2023-09-21
I really recommend the one way taxi king very nice service driver and car was well maintained and I w I'll take service again
ONE WAY TAXI KING IS VERY RELIABLE AND GOOD TAXI SERVICE IN AGRA I HIGHLY RECOMMEND
prateek chaturvedi
2023-09-20
Very satisfied with all the services I received. Thanks
The taxi (a new sedan car) was quite comfortable. Driver was very humble and supportive, drove well in speed limits through out on Yamuna Expressway. Reached our destination quite in time.
Good service. Driver well mannered and punctual. Taxi arrived before the appointed time.
jayanti prasad ghootey
2023-09-15
Exilant