Top Travel Agency In Agra | Best Tour Operator in Agra | Top Travel Agent In Agra - Oneway Taxi King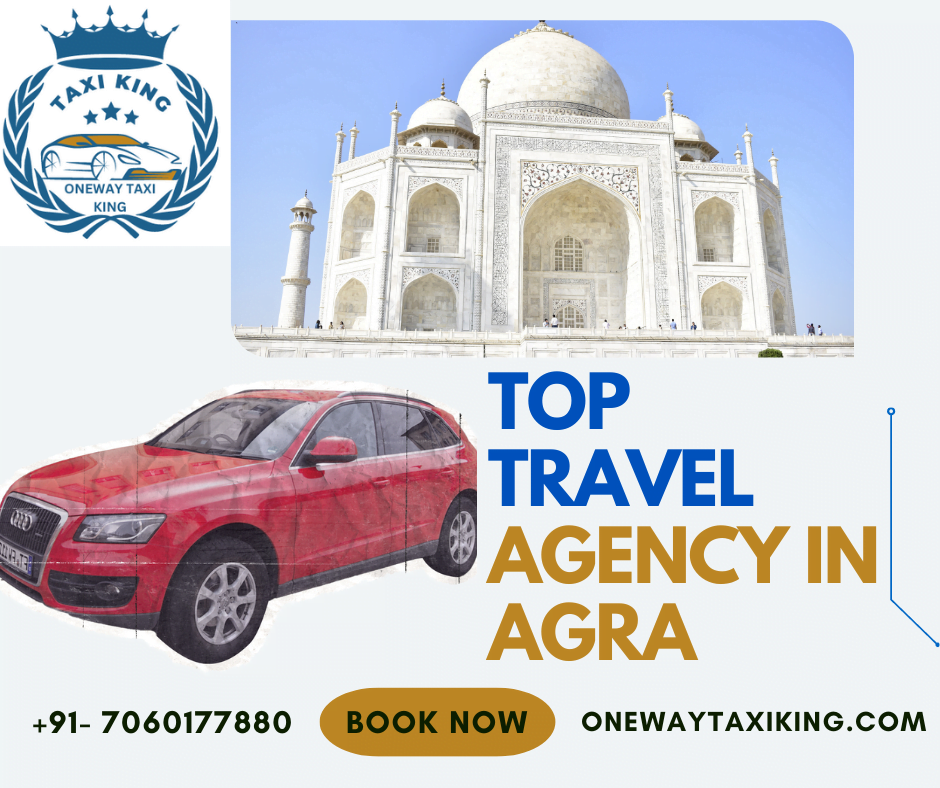 At Oneway Taxi King – Agra Tour and Travels, we embrace the individuality of every traveler, recognizing that each one possesses unique preferences and needs. That's why we are dedicated to providing tailor-made travel solutions that align perfectly with your specific requirements. Whether you're in search of a budget-friendly package or indulging in a luxurious experience, our offerings cater to a diverse range of travelers.
We understand that the process of planning a journey can be quite overwhelming, especially when exploring a new destination. That's why we extend our commitment to your convenience by offering round-the-clock customer support. You can connect with us at any time, and our team will be delighted to assist you with any questions or concerns you might have.
At Oneway Taxi King, we're more than just a tour and travel agency in Agra – we're your dedicated travel companions. Our team of seasoned travel experts is attuned to your desires, striving to curate the ultimate travel experience for you. From securing your flight bookings to reserving the perfect accommodations, arranging seamless transportation, and crafting captivating sightseeing tours, we handle every facet of your journey, allowing you to savor every moment of your vacation.
Our travel packages are meticulously tailored to offer exceptional value for your money. We collaborate with the finest hotels, airlines, and transportation providers to secure unbeatable deals for our clients. Our team is perpetually updated with the latest travel trends and destinations, ensuring that you receive the most current information and recommendations.
Agra Tour And Travels
Oneway taxi king, Agra Tour and Travels stands as a premier tour and travel agency headquartered in the vibrant city of Agra, India. Leveraging our extensive experience in the travel industry, we have honed our skills in crafting personalized travel solutions tailored to the unique needs of our clients. Whether you are envisioning a memorable family vacation, planning a crucial business trip, or seeking a romantic escapade, we possess the expertise to transform your travel aspirations into cherished memories.
Recognized as the foremost Tour and Travels service provider in Agra, we are unwavering in our commitment to delivering unparalleled travel experiences. Our unwavering dedication and specialized knowledge are dedicated to turning your travel dreams into a vivid reality. Reach out to us today to secure your next journey with us and savor the delight of seamless and worry-free travel.
Hire Travel Agent In Agra
Oneway taxi king, is a trusted travel agency in Agra, providing you with the convenience of hiring a professional travel agent. Leveraging our industry expertise and profound knowledge, our travel agents are equipped to meticulously plan and organize your journey. From booking flights and accommodations to coordinating transportation and tours, we have you covered.
Additionally, we offer invaluable insights into travel destinations, local customs, and safety precautions. By engaging a travel agent from Oneway taxi king, you can save time, reduce stress, and ensure a seamless and gratifying travel experience. Whether it's a solo adventure or a group expedition, our travel agents are dedicated to delivering personalized service and transforming your travel dreams into reality.
Best Tour Operator In Agra
Oneway taxi king, stands as a reputable tour operator in Agra, renowned for delivering top-tier travel services. Our professional and experienced team is dedicated to crafting personalized travel packages, encompassing transportation, accommodation, and exhilarating sightseeing activities.
This dedication ensures that your travel experience is not only hassle-free but also thoroughly enjoyable. At Oneway taxi king, we are unwavering in our commitment to delivering exceptional customer service, affordable prices, and secure travel options. As the foremost tour operator in Agra, Oneway taxi king is your definitive choice for a memorable and stress-free trip. For inquiries and reservations, reach us at +91-7060177880
Agra City Tour With Oneway Taxi King
Unearth the cultural and historical treasures of Agra with Oneway taxi king' comprehensive city tour. Accompanied by our experienced tour guides and comfortable transportation, you can delve into the iconic landmarks and hidden gems of this vibrant city.
Our tour encompasses visits to renowned attractions such as the Taj Mahal, Agra Fort, and Fatehpur Sikri. Moreover, you'll have the opportunity to savor local cuisine and explore the bustling markets of Agra. Oneway taxi king' Agra city tour is the perfect avenue to immerse yourself in the rich heritage and vibrant culture of this enchanting city.
Must-Visit Places in Agra
Taj Mahal
Agra Fort
Fatehpur Sikri
Itmad-ud-Daulah's Tomb
Akbar's Tomb
FAQ'S about Travel Agency in Agra
1. What services does a Travel Agency in Agra offer?
Ans- Our travel agency in Agra offers a wide range of services to make your trip to this historic city enjoyable and hassle-free.
Tour Packages: Our travel agencies offer carefully curated tour packages that include visits to iconic landmarks like the Taj Mahal, Agra Fort, and Fatehpur Sikri.
Hotel Bookings: They can assist you in finding the best accommodation options, ranging from budget hotels to luxurious resorts, based on your preferences and budget.
Transportation: Travel agencies arrange transportation, including private cars, taxis, and even tour buses, to ensure you can move around the city comfortably.
2. How can I book a tour with a Travel Agency in Agra?
Ans- Booking a tour with our travel agency in Agra is a straightforward process.
Online Booking: Our agencies have user-friendly websites where you can browse and select your desired tour package. Fill in your details, choose your travel dates, and make a secure online payment.
Contact Them Directly: You can also contact the agency directly via phone or email. Our professional staff will guide you through the booking process, answer any questions you may have, and customize your tour if needed.
Visit Their Office: If you prefer a more personal touch, you can visit the our agency's physical office in Agra to discuss your travel plans face-to-face.
3. Can a Travel Agency in Agra arrange a custom itinerary?
Ans- Absolutely! Our Travel agencies in Agra understand that every traveler has unique preferences and interests.
Tailored Itineraries: We can create custom itineraries that cater to your specific interests, whether you're a history buff, a foodie, or seeking a romantic getaway.
Flexibility: You have the flexibility to choose the places you want to visit, the duration of your stay, and the type of accommodations you prefer.
Local Insights: With their local knowledge, Our travel agencies can recommend hidden gems and off-the-beaten-path experiences that you might miss on a standard tour.